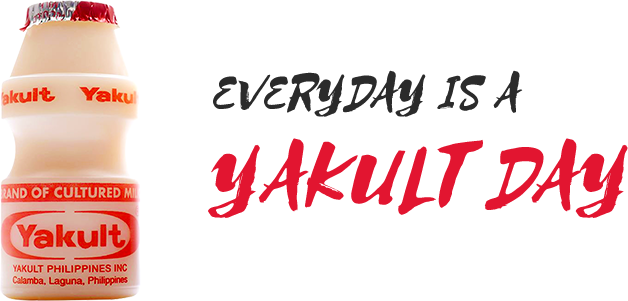 The Company That Provides a Healthy Way of Life
Yakult Philippines Incorporated (YPI) was created by virtue of and under the laws of the Republic of the Philippines on May 25, 1977, with the Securities and Exchange Commission and with Registration Number 72820. The Corporation commenced its actual operation on October 1, 1978, as the exclusive manufacturer and distributor of the world-famous health drink, Yakult Cultured Milk, in the Philippines. Its production and distribution in the Philippines were made possible with the Joint-Venture Partnership of several enterprising Filipino Businessmen and Yakult Honsha, Co. Ltd. of Japan on a 60-40 percent share respectively. Yakult Honsha Co., Ltd. of Japan is the internationally registered owner of the product Yakult Cultured Milk with  Lacticaseibacillus paracasei strain Shirota (LcS), which is manufactured in several countries throughout the world and is selling 40 million bottles per day worldwide.
The first Plant, the Yakult Calamba Plant is located along the National Highway, Barangay Makiling, City of Calamba, and Province of Laguna. With the completion of its 5th Phase expansion, the expected increase in daily production has been realized. From the average production of 3.8 million bottles a day in 2016, the Yakult Calamba factory is now producing 4.2 million every day as of 2022.
,
In 2021, the Yakult El Salvador Plant(The Y.E.S. project) was initiated. This is a second Plant that aims to meet the continuous increase in demand for Yakult product, provide adequate supply and enhance the company's logistics in the Visayas and Mindanao region.  A groundbreaking ceremony was held on April 8, 2022, at Barangay Quibonbon, El Salvador City, Misamis Oriental, Mindanao. The Y.E.S. plant is set to rise on a 4.2-hectare property, which is considerably larger than the first Plant located in Calamba, Laguna.
Four Depots are strategically located in  Marilao Bulacan, Victoria Laguna, Antipolo City Rizal, and Dasmariñas Cavite. To ensure fast and efficient distribution of Yakult while maintaining its freshness and quality. Yakult Cultured Milk is distributed and sold throughout the Philippines by the Company itself and through 30 exclusive provincial distributors. Yakult Marketing Corporation is the marketing arm of YPI, covering Metro Manila and the suburbs, while the provincial Distributors cover the provinces with well-planned territorial jurisdictions. They also implement the highly successful Yakult Lady System as the primary selling strategy to closely propagate the product's healthful features to direct consumers. Direct selling to big store outlets is a secondary sales strategy to reach consumers not covered by the Yakult Ladies.